Meet Beneq at Optica's OIC Conference 2022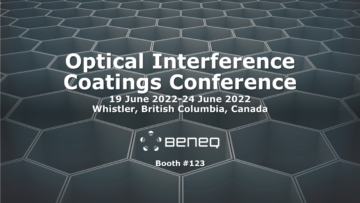 Meet us at Optica's OIC Conference held at Whistler Conference Centre in Whistler, Canada from June 19-24th. At the premier conference for optical interference coatings, we will be at Booth #123 and also present during the Poster Session on Conformal Deposition Methods on June 21st. The Poster session was broken up into two parts, an oral presentation and a poster exhibit. John Rönn orally presented his paper "Conformal optical coatings on complex 3D-macrostructures using atomic layer deposition" from 14:15-14:20 PDT, and he exhibited his poster from 16:15-17:00 PDT. Here, John discussed the advantages of using ALD as an alternative to PVD for ultrafast deposition of conformal optical coatings on freeform optics. Check out the presentation slides here.

Check out our partner from LZH Leif Kochanneck who also presented during the same poster session. Leif presented his paper "Enabling rotary Atomic Layer Deposition for optical applications" as an oral presentation from 13:55-14:00 PDT. Recently, LZH demonstrated pilot use of a Beneq C2R spatial ALD system to fabricate components for potential AR and VR applications.

To register for the event, visit here: https://www.optica.org/en-us/events/topical_meetings/optical_interference_coatings/
To view the presentation slides: https://www.slideshare.net/beneq_marketing/conformal-optical-coatings-on-complex-3dmacrostructures-using-atomic-layer-deposition