Beneq Privacy Policy
Who we are
Beneq is the home of ALD. We engineer the tools and material solutions that enable technology mega trends. For more information, visit www.beneq.com.
Beneq and its affiliates are committed to protecting your information. This Privacy Policy will explain how Beneq collects and uses personal data as required by General Data Protection Regulation (EU 2016/679).
If you have any questions or would like to exercise your data protection rights, please do not hesitate to contact us:
Beneq Oy
Contact person: Lie Luo, Marketing Manager
Olarinluoma 9, 92299 Espoo, Finland
Tel. +358 9 7599 530
What data do we collect?
We collect the following personal data:

Personal identification information such as your name, email address, telephone number, title, home addresses
Information related to contracts and communication consent agreements between parties
Information related to event attendance

Also, we monitor the online behavior of visitors to the Beneq website. The information collected may include, for example, the visited pages of the user, IP address, location of the user, session ID, time and duration of the session, device model, device operating system, screen resolution, and the version of the web browser. The information collected from email notices includes the reading of the notices, the amount of opens, the time of the email opens, opened links, and the user IP address.
Data Subjects, or in other words, the people whose data we collect, include:

Website visitors, prospects, customers, partners, suppliers, agents, and employees.
How do we collect your data?
Data is collected from the following sources:

Beneq.com webpage visits and contact forms
Marketing events and fairs
Beneq partners and service providers such as:

Google Analytics
HubSpot pixels, for email tracking

Data collected from third-party registers.
How will we use your data?
We collect and use personal data only for specified, explicit, and legitimate purposes. For example, as an employer we are obliged by law to collect a certain amount of information from our employees to perform our duties. Likewise, in order to do business, we need to collect and process some information from our clients and prospective clients. These purposes for each function of data use are listed as follows: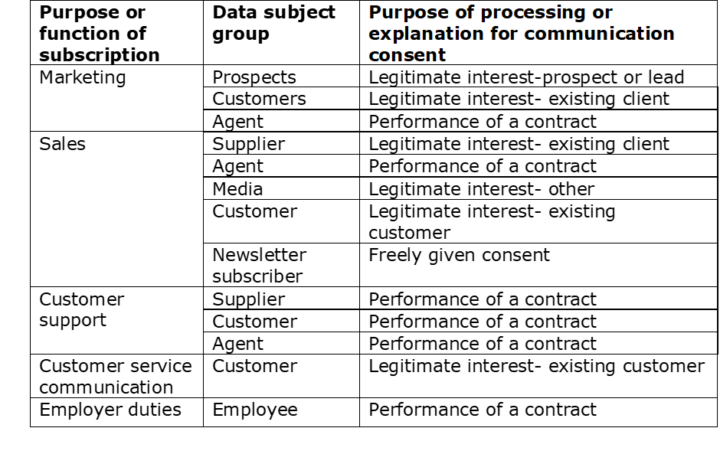 How do we store your data?
Data we collect is principally stored in the European Union or in the European Economic Area. Data that is collected via HubSpot and Google Analytics is mostly stored in HubSpot and Google Analytics servers in the United States of America.
We erase personal data once we no longer have a purpose for using it.

Beneq Supplier data is removed from our system when Beneq stops using the supplier.
Personal data of Beneq Customers is removed from our system when the customer becomes inactive.
Personal data of customers or prospects is erased when the data subjects request to be removed from communication subscriptions or when information is no longer needed
Personal data of Beneq employees is stored as long as it is needed for Beneq to fulfill its duties as employer, as required by Finnish legislation.

Manual register

Any manual paper versions are saved in locked cabinets and can only be accessed by authorized persons.

Data register/ADP register

The personal data contained in the register will be kept confidential. The use of the register is controlled by the controller in the organization. Access to the personal data register is restricted so that the information contained in it and stored in the computerized system is only accessible to those of the registrar's employees who are entitled and have the right to do so. The data controller requires confidentiality and proper security of information from the IT service providers and commitment to the principles of the Personal Data Act.
Computer systems are protected by the operating system security software. Access to the system requires each user from the registry to enter a username and password. The network and the hardware on which the registry is located are protected by a firewall and other appropriate technical measures, such as encryption. The website protects data with SSL or TLS 1.2 secure connection.
Firewalls, virus protection, backups and other data protection systems are provided and maintained by Tibio, Beneq's ICT vendor.
What are your data protection rights?
General Data Protection Regulation gives you certain data protection rights. Beneq does its best to ensure you are fully aware of your rights and that you are entitled to the following:

The right to access

You have the right to request copies of your personal data from Beneq. We may charge you a small fee for this service.

The right to rectification

You have the right to request that Beneq correct any information that is inaccurate. You also have the right to request that Beneq complete information that is incomplete.

The right to erasure

You have the right to request that Beneq erases your personal data, under certain conditions.

The right to restrict processing

You have the right to request that Beneq restricts the processing of your personal data, under certain conditions.

The right to object to processing

You have the right to object to Beneq's processing of your personal data, under certain conditions.

The right to data portability

You have the right to request that Beneq transfers the data that we have collected to another organization, or directly to you, under certain conditions.

You may exercise your rights and unsubscribe from receiving Beneq's newsletter and other communications with several option. You can reply to any communication you received with the request to unsubscribe, you can click in the footer of the email the link to manage subscription preferences, or you can contact Beneq marketing directly with your request by emailing marketing@beneq.com.
What are cookies?
Cookies are small text files stored on your terminal equipment, such as computers, tablets or smartphones, when you browse websites. Cookies contain character strings that enable functions to be performed and contain information on how you have interacted with websites. The purpose of cookies is not to harm your device, nor do they read other information from your equipment's hard drive or spread viruses. Data can be stored in cookies while you use online services or visit websites and in between visits.

Cookies and similar technologies provide various functionalities common to modern websites. Cookies are used widely in both public sector and commercial websites. They are a key component of safe, efficient, and user-friendly functioning of services based on electronic communication.
What types of cookies do we use and how?
Strictly necessary cookies – These cookies are essential for you to browse the website and use its features.
Preferences cookies – These cookies allow a website to remember choices you have made in the past, for example what language you prefer.
Statistics cookies – These cookies collect information about how you use a website, for example, which pages you visited, and which links you clicked on. None of this information can be used to identify you. It is all aggregated and therefore, anonymized. Their sole purpose is to improve website functions.
Marketing cookies – These cookies track your online activity to help advertisers deliver more relevant advertising. These cookies also include third-party cookies from advertisers.
How to manage cookies
You can manage or block cookies within the Cookie Settings found in the footer of each Beneq webpage.
Changes to Beneq's privacy policy
This Privacy Policy is updated regularly according to changes in legislation and changes in our data protection procedures and use of personal data. This Privacy Policy was last updated on January 30, 2023.
How to contact the appropriate authority
Should you wish to report a complaint or if you feel that Beneq has not addressed your concern in a satisfactory manner, you may contact the Office of the Data Protection Ombudsman of Finland, which safeguards your rights and freedoms when processing personal data.
Email: tietosuoja@om.fi
Tel: +358 29 566 6700
Website: https://tietosuoja.fi/