Products
Semiconductor Equipment
The Beneq Transform® is a new class of ALD cluster tool. It uniquely combines automation with both thermal batch and plasma enhanced ALD process modules. The Beneq Transform® offers unparalleled flexibility for processing sequences with multiple ALD process modules to meet wafer capacity. It is designed to be upgradable to meet growing volumes and new ALD processes.

---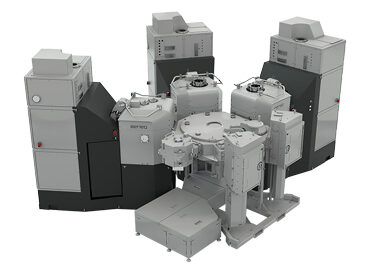 The Beneq Transform® is a one-stop, production-ready ALD solution for power electronics, MEMS and sensors, RF, LED, photonics, and encapsulation applications. It offers both thermal and plasma ALD modules and is capable of single or batch processing. Its proprietary preheating module eliminates hours of waiting time and boosts throughput to a whole new level: 15 wafers per hour @50 nm Al2O3, in thermal mode. Throughput can be further increased by adding up to 2 more process modules, thermal or plasma.
See product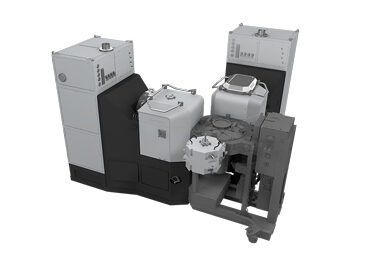 Maximize versatility as volume scales. The Beneq Transform® Lite offers the same thermal, plasma and preheating module as the larger Transform®. It works well for R&D, prototyping, as well as volume production. It is capable of surface pre-treatment and can coat substrate materials at wafer sizes from 3 to 8 inches. With the BENEQ Transform® Lite customers can now run several different ALD processes on multiple devices and applications, all on a single footprint!
See product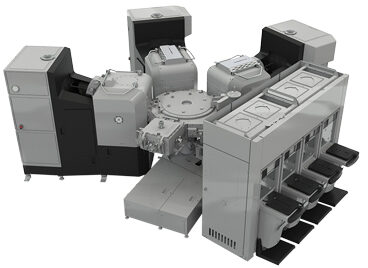 Beneq Transform® 300 is the only 300 mm ALD cluster tool combining thermal ALD (batch) and plasma ALD (single wafer) technologies to provide a highly versatile platform to IDMs and foundries. Transform® 300 is dedicated to a broad range of advanced thin-film applications from gate dielectric, including in high aspect ratio trenches, to anti-reflection coating, final passivation or encapsulation and beyond for high-volume manufacturing CIS, Power, Micro-OLED/LED, Advanced Packaging and other MtM devices.
See product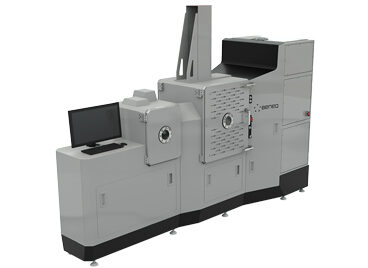 Beneq Prodigy™ sets a new standard for affordable volume manufacturing of compound semiconductors (CS) and MEMS devices with ALD. It is the ideal manufacturing solution for compound semiconductor including RF IC's (GaAs/GaN/InP), LED, VCSEL and Light Detectors and for MEMS providing best-of-breed passivation and encapsulation films across various wafer sizes and types. Enjoy a simple, yet elegant, solution for enhancing device performance on 75-200 mm wafers with a low-cost batch tool with latest ALD technology.
See product
---
Comparison
Which product is for you
Product
Transform® Lite
Transform®
Transform® 300
Prodigy
Dimensions
3000 x 1250 x 2250 mm
3000 x 3000 x 2250 mm
4400 x 4800 x 2250 mm
3500 x 2500 mm
Max Batch Load
200 mm x 25 wafers
200 mm x 25 wafers
300 mm x 25 wafers
150 mm x 50 wafers, 100 mm x 75 wafers
Integration
Cluster, up to 2 ALD modules & 1 pre-heater
Cluster, up to 3 ALD modules & 1 pre-heater
Cluster with EFEM, up to 3 ALD modules & 1 pre-heater
Standalone system
Ozone Process Capability
Optional
Optional
Optional
Optional
Wafer Pre-Heating
Yes
Yes
Yes
Yes
Wafer Cooling
Facet-mounted
Built-in
Built-in
No
Temperature Range
25 – 420 ℃
25 – 420 ℃
25 – 420 ℃
25 – 420 ℃
Plasma Gas Lines
2 + 2 optional
2 + 2 optional
3+1 optional
0
Transfer Module Type
Mx400
Mx600
M2C5
Automatic Loader
Wafer Throughput (Al2O3 @ 200 C, 50 nm)
15 wafers/hour – 1 PM
40 wafers/hour – 3 PM
12 wafers/hour – 1 PM
>14 wafers/hour
Wafer Throughput (HfO2 @ 250 C, 20 nm)
13 wafers/hour – 1 PM
28 wafers/hour – 3 PM
N/A
N/A
Integration
SECS/GEM
SECS/GEM
SECS/GEM
SECS/GEM
Safety and Ergonomics
SEMI S2 and S8
SEMI S2 and S8
SEMI S2 and S8
SEMI S2
Dimensions
3000 x 1250 x 2250 mm
Max Batch Load
200 mm x 25 wafers
Ozone Process Capability
Optional
Wafer Cooling
Facet-mounted
Temperature Range
25 – 420 ℃
Plasma Gas Lines
2 + 2 optional
Transfer Module Type
Mx400
Wafer Throughput (Al2O3 @ 200 C, 50 nm)
15 wafers/hour – 1 PM
Wafer Throughput (HfO2 @ 250 C, 20 nm)
13 wafers/hour – 1 PM
Safety and Ergonomics
SEMI S2 and S8
Transform® Lite
Dimensions
3000 x 3000 x 2250 mm
Max Batch Load
200 mm x 25 wafers
Ozone Process Capability
Optional
Temperature Range
25 – 420 ℃
Plasma Gas Lines
2 + 2 optional
Transfer Module Type
Mx600
Wafer Throughput (Al2O3 @ 200 C, 50 nm)
40 wafers/hour – 3 PM
Wafer Throughput (HfO2 @ 250 C, 20 nm)
28 wafers/hour – 3 PM
Safety and Ergonomics
SEMI S2 and S8
Transform®
Dimensions
4400 x 4800 x 2250 mm
Max Batch Load
300 mm x 25 wafers
Ozone Process Capability
Optional
Temperature Range
25 – 420 ℃
Plasma Gas Lines
3+1 optional
Transfer Module Type
M2C5
Wafer Throughput (Al2O3 @ 200 C, 50 nm)
12 wafers/hour – 1 PM
Wafer Throughput (HfO2 @ 250 C, 20 nm)
N/A
Safety and Ergonomics
SEMI S2 and S8
Transform ® 300
Dimensions
3500 x 2500 mm
Max Batch Load
150 mm x 50 wafers, 100 mm x 75 wafers
Ozone Process Capability
Optional
Temperature Range
25 – 420 ℃
Transfer Module Type
Automatic Loader
Wafer Throughput (Al2O3 @ 200 C, 50 nm)
>14 wafers/hour
Wafer Throughput (HfO2 @ 250 C, 20 nm)
N/A
Safety and Ergonomics
SEMI S2
Prodigy