Questions were answered by Beneq's Head of Customer Services Timo Rantasalmi.
3 cases of moisture protection with ALD
Atomic Layer Deposition (ALD) is truly the ultimate moisture barrier. With ALD, it is possible to create moisture barriers that are thinner and keep humidity and vapors out better than other hermetic packaging options. ALD offers the only way to create conformal ultra-thin protective coatings on surfaces with high aspect ratios and complex 3D shapes. ALD is also a great solution for encapsulating sensitive surfaces.
"There are so many devices that can use ALD barrier against moisture or gas and other vapors. No matter what needs protection from humidity, ALD keeps solutions safe and dry. The unmatched quality of ALD coatings makes it the winning moisture barrier for many industries, especially the semiconductor industry," says Beneq's Head of Sales, Sami Sneck.
Here are 3 of Beneq's ALD moisture barrier customer cases from the electronics industry:
1. Encapsulation of OLED microdisplays
Questions were answered by Beneq's Head of Customer Services Timo Rantasalmi.


Organic Light-Emitting Diode (OLED) devices, such as VR glasses, are extremely sensitive to oxygen and moisture. Thin-film encapsulation is considered as the best method for protecting these devices.
Protection of OLED displays against moisture is one of the most promising but also one of the most challenging applications of moisture barrier technology. And this is exactly where the electronics industry is moving: towards flexible solutions with flexible displays. Beneq developed an ALD-based OLED encapsulation already in 2009 and has since found more and more applications for it.
Customer Case:
One of the leading Asian OLED microdisplay manufacturers needed thin-film encapsulation of the highest quality for their devices to guarantee long device lifetime. A typical encapsulation requirement is a Water Vapor Transmission Rate (WVTR) smaller than 1*10-6 g/(m2 day), which is challenging to achieve with conventional thin-film deposition methods, due to low process temperature requirements.
Beneq's solution for the OLED microdisplay manufacturer enabled a 50 nm thick Al2O3/TiO2 nanolaminate coating, which was deposited at a low temperature of 90°C using a fully automated Beneq TFS 200 ALD system integrated to the customer's manufacturing cluster.
2. Wafer-level moisture barrier for LED
Many devices in addition to OLED devices – such as LED, MEMS, RF, power semiconductors, III-V semiconductors, and CMOS image sensors – can use the ALD moisture barrier on wafer-level.
Let's look at the LED industry as an example: Typical ALD coating applications in the LED industry range from wafer-level moisture barrier coatings to silver mirror protection. Beneq has been working with the LED industry for years, both as an equipment provider and as a service partner for process optimization and coating production.
Customer Case:
One the world's leading LED manufacturers needed help with improving the moisture barrier of their high brightness LED chips. The chips were not meeting the lifetime specification of the product due to oxidation caused by moisture. Traditional coating technologies were not sufficient to prevent the oxidation.
Beneq applied wafer-level moisture barrier to the chips and the problem was solved. The lifetime specification of the LED chips was met with Beneq's solution.
3. Chip-level moisture barrier for power semiconductors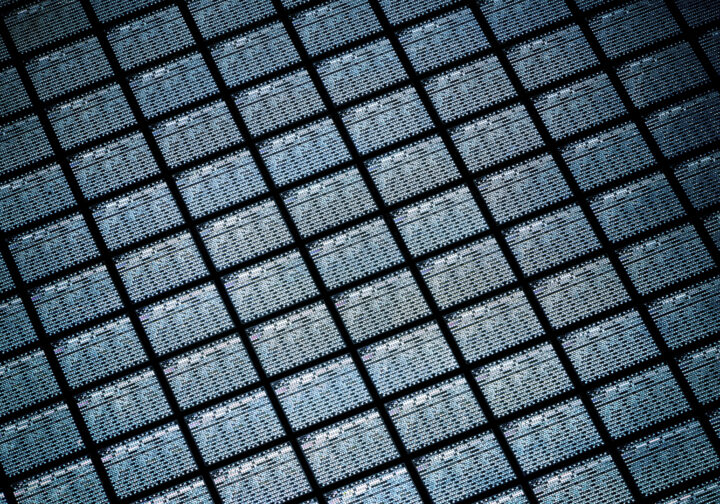 With critical components and sensitive electronics, it makes sense to apply multiple ALD coatings in several phases of the production process. For example, unlike wafer-level moisture protection, chip-level also protects the side-walls of the chip against moisture. ALD coating applied in several phases, or in the later phases of the production, often pays itself back during the lifetime of the application in maintenance savings.
Customer Case:
A big player in the power semiconductor device industry needed help with a device that did not pass the Highly Accelerated Stress Test (HAST), which tests the device performance after long-term, high-humidity, high-temperature exposure. The side walls of the device needed to be protected against moisture.
A conformal ALD Al2O3/TiO2 multilayer moisture barrier was deposited on the chip-level with the Beneq P400A high-capacity batch ALD system. To enable coating with the chips on dicing frames, low-temperature was used.
Download the new Beneq ALD whitepaper
Read more about ultimate moisture protection and the benefits of atomic layer deposition from our new whitepaper: