News
Atomic Layer Deposition Expected to Grow to Meet Demand for More-than-Moore Devices and Applications
A conversation with SEMI.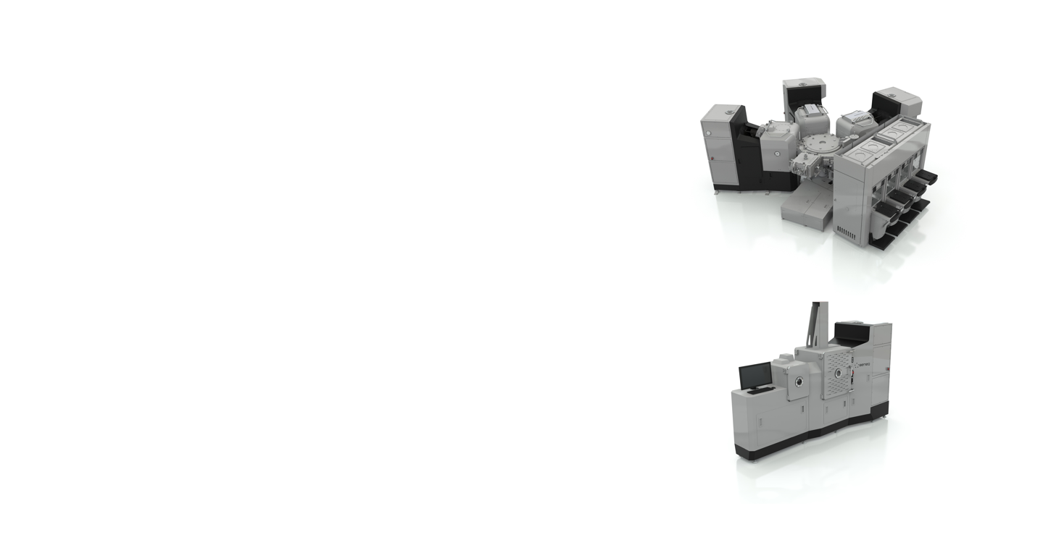 Atomic Layer Deposition (ALD) players are poised to seize a new growth opportunity after the chip shortage pushed manufacturers to announce fab capacity expansions worldwide. Geared toward 200mm market needs, 300mm ALD platforms have recently advanced to meet the demand of More-than-Moore (MtM) devices and applications for MEMS, sensors, power and RF devices, photonics. Driven by the wafer production volume increase, ALD solutions are now expected to grow and enter the MtM devices market.
SEMI spoke with Dr. Patrick Rabinzohn, Strategic Development Executive of Semiconductor ALD at Beneq, about the benefits of ALD and shared how Beneq is building a comprehensive ALD product portfolio – from Beneq Transform® to ProdigyTM – covering different device applications and wafer sizes. We also talked about Beneq solutions to customer challenges, thanks to its vision and future trends for MtM devices for ALD.
SEMI: Beneq is already a familiar name in the ALD equipment business. For those new to the brand, please introduce the company.
Rabinzohn: Beneq is the home of atomic layer deposition and has ALD in its DNA. In fact, the very first industrial application of ALD was done in 1984 here on electroluminescent displays – the same location where Beneq still is headquartered today! Beneq was formed in 1984 and today we are a leading provider of ALD solutions for More-than-Moore semiconductor device fabrication with the Beneq Transform®.
Beneq's state of art applications lab enables proof-of-concept and customer adoption for new ALD processes. Our team of engineers and experts is dedicated to making ALD tools accessible to our customers and partners.
SEMI: Beneq introduced the first Beneq Transform® in late 2019. How has adoption been so far?
Rabinzohn: The Beneq Transform® has revolutionized ALD cluster tools for More-than-Moore semiconductor markets in the EU, the U.S. and Asia since its launch in 2019. As of November 2021, Beneq has seen higher than expected demand for both the Transform and Transform Lite product configurations across key customer regions such as Europe, Japan, China, Taiwan and the U.S. We are super excited to see more customers adopting ALD in their More-than-Moore applications.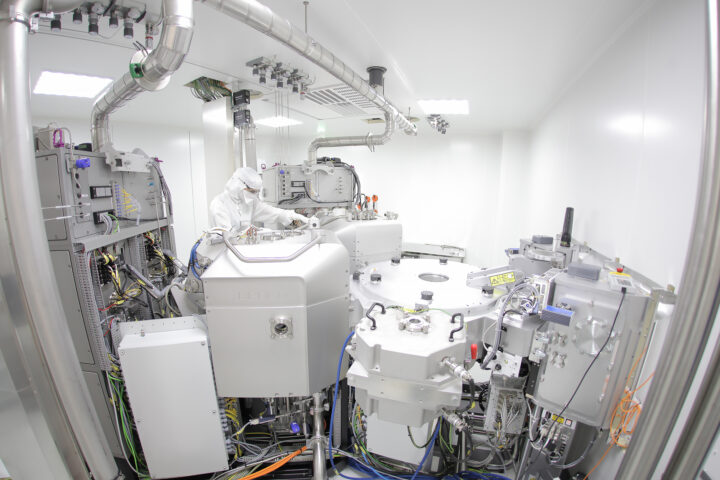 SEMI: You recently introduced two new semiconductor products, Beneq Transform® 300 and ProdigyTM. What inspired you to create these products?
Rabinzohn: The Beneq Transform® 300 was created to address growing demand in 300mm More-than-Moore market segments, particularly CMOS image sensors, power devices, micro-OLED/LED, and advanced packaging. The traditional leading-edge 300mm ALD tools designed for advanced memory and logic processes are not matching the requirements of these emerging semiconductor applications, calling for a high degree of versatility, high throughput and affordability.
We also saw rapid growth in markets for compound semiconductors, including RF IC's (GaAs/GaN/InP), LED, VCSEL and light detectors as well as for MEMS and actuators. When only the simpler processes and applications by ALD are involved for these emerging semiconductor products, cost of ownership becomes the most critical requirement. In addition, manufacturing demand continues to grow for multiple wafer sizes, from 75mm to 200mm, and various levels of equipment capacity are required. The Beneq ProdigyTM addresses these market segments, where there is a need for a simple solution supported by high-end technology. The product inherits the ALD design and processing know-how developed by Beneq over 15 years, and packs advanced features in a simpler, targeted industrial form factor.


SEMI: What customers do Transform 300 and ProdigyTM target?
Rabinzohn: Beneq Transform® 300 is a versatile manufacturing platform intended for IDMs and foundries dedicated to CIS, power devices, micro-OLED/LED, advanced packaging and other emerging More-than-Moore applications in RF and Thin Film Transistor based technologies. It is a highly configurable platform that caters to multiple advanced thin-film applications ranging from gate dielectric, including in high aspect ratio trenches, surface passivation, anti-reflecting coating, final passivation or encapsulation, and beyond.
Beneq ProdigyTM is the ideal manufacturing solution for VCSEL, LED and MEMS manufacturers and foundries looking to enhance device performance and reliability through affordable stand-alone ALD batch tool. Beneq ProdigyTM provides best-of-breed passivation and/or encapsulation films across multiple wafer types and sizes.
SEMI: What were the most important innovations embedded in the Beneq Transform® 300?
Rabinzohn: Versatility: Beneq Transform® 300 is the only 300mm ALD cluster tool offering both Thermal ALD (batch) and Plasma ALD (single wafer) technologies for maximum flexibility and capability to enable various capacity, product and application mixes. Another capability is that our single wafer process module can run plasma and/or thermal ALD processes in-situ. This is another contributor to the versatility required for More-than-Moore.
Adaptability: Beneq Transform® 300 is designed to meet a wide range of capacity and applications requirements. These include gate dielectric in high aspect ratio trenches, surface passivation, anti-reflecting coating, final passivation or encapsulation as well as Chip-Scale-Packaging of singulated dies with wafer-on-tape applications.

High reliability: The product meets industry standards for single-wafer handling schemes compatible with sensitive substrates.
Productivity: Beneq Transform® 300 offers best in class serviceability, including the shortest mean time to clean and recover (MTTCR).
Excellence: The product offers high wafer throughput under thermal batch processing. This is thanks to our unique innovation of a proprietary pre-heating module, which significantly reduces heating time, and our 25-wafer minibatch design.
Fab-ready: The equipment is cleanroom compatible, features the semiconductor equipment interface protocol for equipment-to-host data communications (SECS/GEM) capabilities and meets the highest SEMI S2 and S8 standards.
And finally, The Beneq Transform® 300 enables a flawless transfer of ALD manufacturing capability from 200mm to 300mm.
SEMI: How about the Beneq ProdigyTM?
Rabinzohn: The most important innovations embedded in the Beneq ProdigyTM are the following:
Value: ProdigyTM combines a low price point with proven higher end technology while offering a unique breakthrough in economy, capacity and reliability to the compound semiconductor (CS) and MEMS manufacturers.
Simplicity: ProdigyTM offers pure simplicity through automated loader with horizontal wafer handling and easy maintenance and serviceability with easy side access.
Innovation: The product sets a new standard for affordable high-volume manufacturing of compound semiconductors (CS) and MEMS devices with ALD. We use simple automation, reliable reactor design proven for higher end applications and large size mini batch design.
Fab-ready: The equipment is cleanroom-compatible, features SECS/GEM communication capabilities and complies with the SEMI S2 standard.
And again, the product enables flawless transfer of ALD technology to Beneq Transform®.
SEMI: What are the most common functional applications your customers look for with the help of ALD solutions?
Rabinzohn: Due to its versatility offering both thermal batch and plasma processing modules, the Beneq Transform® is widely deployed from corporate R&D and Technology Development to foundry manufacturing of devices up to 300mm wafers. It offers fully automated and high throughput production of, for example, power devices, RF filters, RF ICs, MEMS, image sensors, LEDs, micro-LED and micro OLED devices.
Typical functional applications for the Beneq Transform® across MtM market segments include the following:


Many ALD solutions have already been introduced to the wafer fabs or are being developed in each specific market segment. Our applications matrix for power devices is shown as an example below: the functionality of applicable ALD films covers gate dielectric stacks, surface passivation, specific nucleation or solid source doping and passivation or encapsulation across the full range of power devices: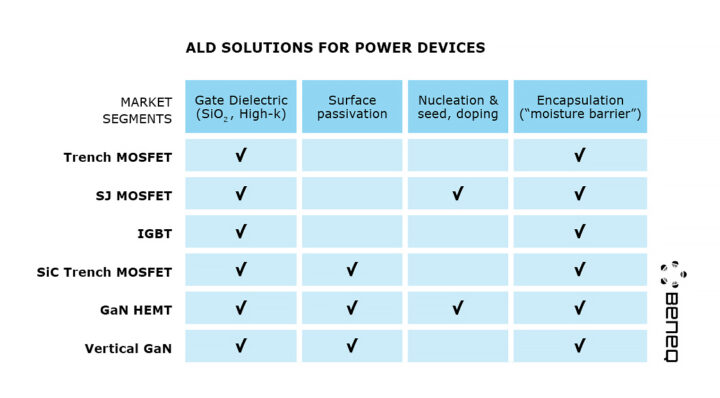 SEMI: When a customer is considering adopting ALD, what should they look for when choosing equipment solutions?
Rabinzohn: Two challenges are driving the adoption of ALD in production of Moore-than-Moore devices. First there must be a need to enable a technology inflection for which ALD becomes a must. ALD is the way to go when surface and interface control is critical and/or films with high quality, conformality and uniformity are needed. Beneq's ALD technology fundamentals and equipment design are best of breed in this respect.
Second, generally the throughput of ALD is perceived to be too low or its cost of ownership too high. One order-of-magnitude improvement in throughput is made possible thanks to our advanced batch thermal ALD technology designed for industry standard wafer handling systems. The technology is used with advanced cluster tool designs and incorporates rapid preheating for further manufacturing worthiness.
SEMI: It sounds like you are building up a comprehensive ALD product portfolio, covering different device applications and wafer sizes. What is your vision for Beneq in the semiconductor business?
Rabinzohn: ALD processes and equipment have been used in logic and memory device high-volume manufacturing (HVM) for more than 20 years now. In the Moore-than-More space, ALD is primarily qualified for HVM of CMOS Image Sensor while other Moore-than-More devices (power, RF, MEMS, and photonics) started to embrace ALD more recently. We look forward to continuing our nearly triple-digit growth toward market leadership thanks to the pervasiveness of ALD across our applications matrix.
As a next step we do expect the Moore-than-More ALD market to expand to denser ICs, down to 28nm, and encompass smart power, RF/analog and mixed signal and embedded memories. This expansion of the Moore-than-More market served by ALD will be a great opportunity for Beneq as a leader.
Learn more about Beneq semiconductor equipment.
Interviewee
Patrick Rabinzohn, Ph.D., is Strategic Development Executive of Semiconductor ALD at Beneq. He has 35 years of semiconductor industry experience across the semiconductor, semiconductor equipment and semiconductor materials markets and has extensive knowledge on equipment, process, and process integration and technologies. Prior to Beneq he held several high-profile roles including CTO for IoT/MEMS and Advanced Packaging at Lam Research, General Manager at Intermolecular, Managing Director for Microelectronics at Alchimer, and CTO Europe at Applied Materials. He graduated from Ecole Superieure d'Electricite (Supelec) and received a Ph.D. in Materials Science from Paris University.
Headquartered in Espoo, Finland, Beneq is dedicated to making ALD technology accessible for researchers and enabling technology mega trends through engineered ALD materials solutions. To learn more, please visit Beneq.com.
Interviewer
Serena Brischetto is the director of Marketing and Event Operations at SEMI Europe.
To learn more about SEMI, please visit SEMI.org
Article Source: SEMI