BENEQ PRESS RELEASE
LZH and Beneq set the stage for ultrafast ALD adoption in optics industry
13 December 2022 12:00 EEST

Beneq, the home of Atomic Layer Deposition (ALD), and Lazer Zentrum Hannover (LZH) have developed a spatial ALD system to coat complex and 3D optics with conformal optical films at deposition rates of up to 1 µm/hour, marking a crucial milestone for volume manufacturing with ALD. Emerging optics, such as those in mobile phone cameras, AR/VR goggles and LiDAR devices, demand antireflective coatings with better conformality than achievable with traditional Physical vapor deposition (PVD) processes.
Beneq's C2R ALD system successfully achieves deposition rates 100 times faster than typical ALD processes and is on par with the current PVD state-of-the-art, like ion beam sputtering (IBS). The speed of the C2R is a breakthrough in making ALD viable for production scale coatings in the optics industry.
ALD enables coatings on emerging optics
With the Beneq C2R, LZH expanded their coating capabilities to include ALD in order to address a new trend of emerging optics that surpass the manufacturing limits of PVD technologies. The self-limiting nature of ALD allows precise control of film thickness and highly conformal coatings on structured, curved and freeform surfaces.
"Spatial ALD with the Beneq C2R addresses the deposition speed and film performance challenges presented by coating next-generation optics," says Sami Sneck, VP of Advanced ALD at Beneq. "It is poised to help bring high volume manufacturing with ALD to the forefront of the optical coating industry."
ALD easily translates to optical coatings
Currently, LZH is coating optical grating structures and polymer optical lenses for use in virtual and augmented reality glasses with the spatial ALD approach.
"We were surprised by ALD's simple adaptation to optical coatings," says LZH's Head of Optical Components Department, Dr. Andreas Wienke. "With classical PVD processes, it's nearly impossible to achieve a conformal coating on a strongly curved surface with the same reflection or transmission values over the whole area. With ALD, it is so simple and easy to achieve."
Deepening collaboration primes tool for industry adoption
LZH and Beneq's collaboration continues, and LZH recently implemented their own in-situ monitoring tool to improve the C2R's capabilities. The system allows real-time monitoring of layer growth and the ability to swiftly re-engineer coatings, yielding very precise and reproducible thin films.
"With the new BBM and other additional features, we are raising the bar for what is attainable with ALD in the optical coatings industry," says Mr. Sneck.
Watch the video that gives deeper insight into the cooperation between LZH and Beneq.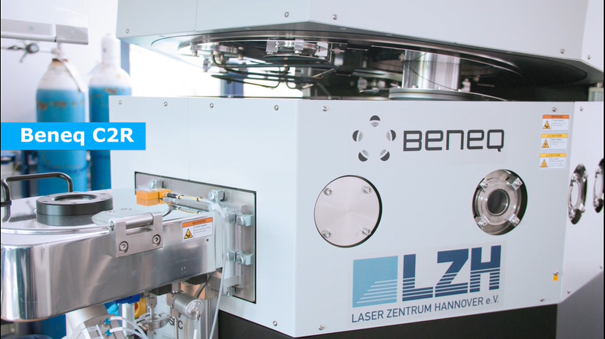 About Beneq 
Beneq is the home of atomic layer deposition. In 1984, we established the world's first industrial production using ALD. Today, we lead the market with products for R&D (TFS 200, TFS 500, R2), semiconductor device fabrication (Transform®), 3D and batch production (P400A, P800, P1500), ultra-fast spatial ALD (C2R), and roll-to-roll ALD (Genesis). 
Beneq's unique Development Service simplifies customer adoption and proof-of-concept for new ALD processes, while our Coating Service cuts down time to market by outsourcing state of the art ALD production. Our team of engineers and experts is dedicated to making ALD tools accessible for researchers. 
Beneq Contact: Lie Luo, Head of Marketing, Beneq, lie.luo@beneq.com
Laser Zentrum Hannover e.V. (LZH)
As an independent, non-profit research institute, the Laser Zentrum Hannover e.V. (LZH) stands for innovative research, development, and consulting. Supported by the Lower Saxony Ministry of Economics, Labor, Transport and Digitalization, the LZH is dedicated to selflessly promoting applied research in the field of photonics and laser technology. Founded in 1986, almost 200 employees are now working at the LZH.
The LZH offers solutions to current and future challenges with its smart photonics. Along the process chain, natural scientists and engineers work interdisciplinary together: from component development for specific laser systems or for quantum technologies to process developments for a wide variety of laser applications, for example for medical and agricultural technology or lightweight construction in the automotive sector. 18 successful spin-offs have emerged from the LZH to date. Thus, the LZH creates a strong transfer between fundamental science, application-oriented research, and industry – and uses light for innovation.
LZH Contact: Lena Bennefeld, Head of Communications Department, LZH, presse@lzh.de, +49 511 2788-238