Take the metro to Beneq
Saturday November 18th was a big day here in Espoo. The new west metro extension from Helsinki was opened. It was a long wait, but you can now take the subway to the Beneq factory from the Helsinki city center.
Like we mentioned when the underground started to operate, our metro is yellow, but we welcome the orange one to our neighborhood.
Maybe the next generation metro cabins will have a yellow transparent display in the windshield?
How to get to Beneq with the metro
To get to Beneq, you can jump on the subway from any metro station, but taking the right train is getting complicated now that we have two metro lines! Both lines stop at almost all stations, but only one comes to our stop at the Espoo end. When arriving from Helsinki, you should take the M1 to Matinkylä.
Every other train goes to Matinkylä. During business hours, the wait time is five minutes at maximum so you don't need to run. If you accidentally jump on a train that terminates at Tapiola (M2), there is no need to panic – just get off at any stop and wait for the next train to arrive on the same platform.
Leave the train at Niittykumpu
Our stop is Niittykumpu. When at the station, follow the exit signs from the platform and take the exit B to Niittytori on the left after the long escalator.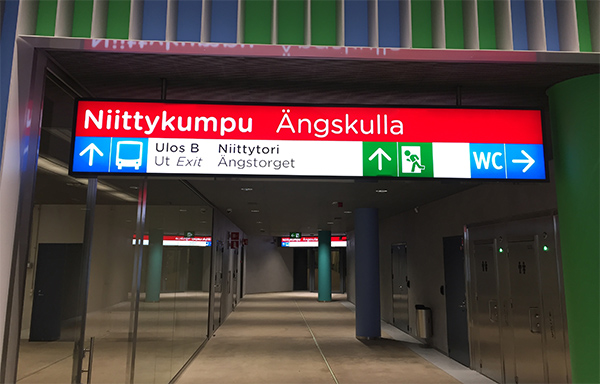 When you reach the end of the tunnel, you can see the Beneq factory. In fact, it is the only thing you will see from the gate.
The rest of the trip is a walk in the park. See you soon!