Join Beneq as a Student
Beneq is set for the next growth phase. We have ambitious development plans in both our business units – Atomic Layer Deposition and Lumineq Displays – and we are continuously building the talent pool we will need to realize our growth plan.
Part of our future is close cooperation with students in the field of chemistry, physics and material sciences. Students who have joined us during their studies have typically studied inorganic chemistry, material physics, micro and nanosciences, mechanical engineering, automation and electrical engineering, industrial management, marketing and industrial design.
We have also worked with many student groups as an industry partner. A recent example of cooperation was the Product Architecture Design course with Aalto University, some results of which you can see in Lumineq Product Vision pages. We are always open for a discussion about course work assignments, especially with chemistry and physics students from our neighbour universities, Aalto and University of Helsinki.
Master thesis workers needed
We have master thesis workers working with us almost all the time and hire students also as trainees. Many of the students have continued to work with us after the thesis and trainee periods and now work full-time at Beneq.
Possible master thesis topics include improving the electrical efficiency and luminous brightness of our electroluminescent displays (in the Lumineq business unit) and investigating new applications areas and processes for Atomic Layer Deposition (in our Thin Film Solutions unit). You can also suggest your own topic. As long as it is relevant to our future plans, we will be happy to discuss.
To give you an idea of what kind of work our master thesis students typically do, here are a few examples of previous ones:
Fabrication of Optical Rugate Structures by Atomic Layer Deposition. Aalto University, School of Chemical Technology.
Thin Film Processes with Atomic Layer Deposition for Transparent Flexible Electroluminescent Displays. Aalto University, School of Electrical Engineering.
Characterization of Zinc Oxide, Sulfide and Oxysulfide Thin Films Grown by Spatial Atomic Layer Deposition. Aalto University, School of Science.
Coating of Stainless Steel and Aluminium by Atomic Layer Deposition (ALD). University of Helsinki, Department of Inorganic Chemistry.
Vacuum Line Chemistry in Selected Atomic Layer Deposition Processes. Helsinki University of Technology, Department of Chemical Technology.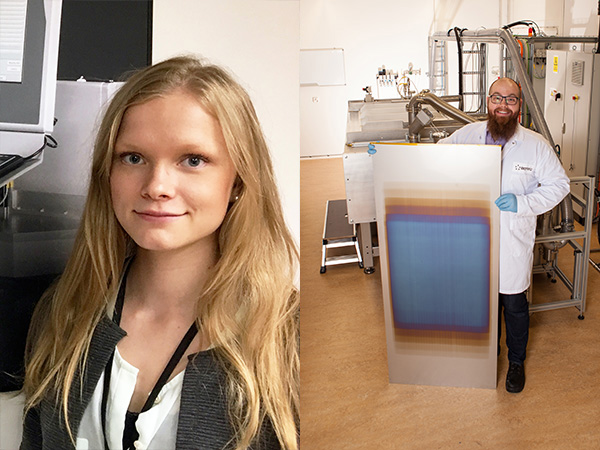 Summer trainees and course work
Beneq is a high technology company with lots of extremely interesting customer projects (most of which are so secret we can't tell you about them before you join us and sign an NDA), and we make sure that also our summer trainees get to work with real research projects. You can see an example of a student's summer work in this Beneq Science Letter.
Our Marketing team is also looking for students who understand modern multi-channel marketing, social media and web analytics. Proficiency in English is mandatory in these positions, command of other languages is an advantage. Expertise from video marketing, production and editing would be a nice plus.
Join us and make Finnish high-tech history
Most of our student trainee positions are located in Espoo, Finland, but we are an international company with ambitious growth plans so there is always a possibility for international cooperation.
If you want to grow with us, please send us your application and CV. In your application, we would especially like to hear what inspired you to apply and what you believe you would bring to the company.