Beneq at the ALD/ALE 2022 Conference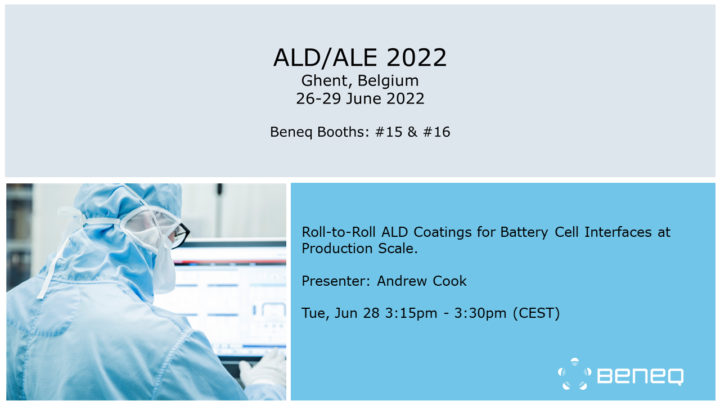 ALD 2022 will be held at the International Convention Center (ICC) Ghent in Ghent, Belgium on 26-29 June. The AVS 22nd International Conference on Atomic Layer Deposition (ALD 2022) featuring the 9th International Atomic Layer Etching Workshop (ALE 2022) is a three-day meeting dedicated to the science and technology of atomic layer controlled deposition of thin films and now topics related to atomic layer etching.
Connect with Beneq experts at booths #15 and #16. ALD expert, Andrew Cook will be giving a talk titled Roll-to-Roll ALD Coatings for Battery Cell Interfaces at Production Scale. Here, Andy will discuss the use of our Genesis ALD to coat web-based battery components for improved electrochemical performance and safety. The talk will be held Tuesday, 28th of June from 3:15-3:30 PM (CEST). Hope to see you there!
To register for the event, visit here: https://ald2022.avs.org/register/
Andrew Cook's talk: Slideshare